| | |
| --- | --- |
| | In the Car |




The Car Dealer
123 Main Street
Anytown, NY 20317
USA
(212) 555-4321
(212) 555-1234 fax

Send Us

E-mail

© Copyright 2011
The Car Dealer
powered by Website2Go.com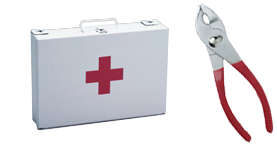 Always Keep Emergency Equipment

Rather than buying a ready-made packet of flares and jumper cables, you can rummage through the house and come up with the necessities for getting out of trouble on the road:

BAG - Use an overnight bag with one big compartment and smaller ones so you don't need to empty the whole thing to retrieve the item you want. Label the contents of each pocket beneath its zipper with a felt-tip pen.

JUMPER CABLES - Keep color-coded (red for positive/black for negative) jumper cables in the bag. This can save a call to the auto club.

SHOP RAGS - A couple of old hand towels do the job of getting dirt and grease off your hands. They're also handy to kneel on.

ICE SCRAPER - Essential when needed on cold days.

FLASHING LAMP - Keep a square flashlight, so it can sit upright and be set to flash.

FLARES - Also vital when stopped on a dark road.

TIRE INFLATOR - A pressurized can is good in a pinch when changing a spare isn't possible. Be sure to tell the person who repairs the flat if you used one with a sealant.

BUNGEE CORDS - Handy to do things like hold the trunk down when it's stuffed.

FIRST AID KIT - Burn cream, a compression bandage, Band-Aids, and a roll of tape.

NOTE PAD AND PENCIL - You may need to put a note on the windshield of another vehicle.

TOOL KIT - A pair of pliers, two screw drivers (large and small bladed and capable of being converted into Phillips drive) and a tire pressure gauge. Hammers are too big and of dubious use, adjustable wrenches aren't really necessary.