| | |
| --- | --- |
| | Reviews |




The Car Dealer
123 Main Street
Anytown, NY 20317
USA
(212) 555-4321
(212) 555-1234 fax

Send Us

E-mail

© Copyright 2011
The Car Dealer
powered by Website2Go.com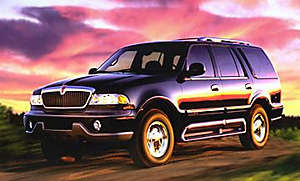 SPORT-UTILITY VEHICLES
Hot Sellers This Year

The sport-utility trend has been so unstoppable over the past few years that automakers are retiring smaller cars in an effort to produce more and bigger SUVs. Not only more and bigger, but more luxurious as well. This year, the spotlight is on a category of light trucks loaded with leather, wood and other glamorous, upscale appointments:

Some old-line trucks have gone upscale. For '99, the Jeep Grand Cherokee has never been quite so grand. Redesigned for the new model year, the top-of-the-line Jeep retains its sure-footed off-road abilities, but comes in with a sleeker look and a new, optional V-8 engine. The Land Rover Discovery is also newly minted for '99. To mark the occasion, it's been renamed "Discovery II" and upgraded from stem to stern with new amenities and technologies. The Toyota Land Cruiser ups the ante among $40,000+ SUVs with the introduction (at last) of a V-8 engine under the hood of a new model that offers more passenger room and a clutch of new standard features.

The Suzuki Sidekick has metamorphosed into the Vitara and the Grand Vitara, which, in turn, has spawned a Chevrolet twin -- the Tracker. All three models have moved up with new interior and exterior styling and the Grand Vitara is now the only "five-door small ute" to boast a V-6 engine. Small, in this case, is obviously a relative term. A svelte and stylish new Isuzu Rodeo is on tap for '99 as well. "Rugged" is no longer the byword for Isuzu's best seller, it now answers to "sophisticated with a shift toward luxury."

The high end of this market is marked by contributions from famous deluxe car makers not known for their 4x4 prowess. Lincoln, Lexus (with 2 models), Mercedes and most recently Cadillac have all rushed to fill their showrooms with 4-wheel drive SUVs. The new Mercedes M Class is more than just a Mercedes on a truck frame. It's designed to be car compatible and not present a safety threat to smaller cars on the road. The new Lexus RX300 is in the same category. Built more like a car than a truck with unibody construction, the Lexus is lighter and more maneuverable, but the tradeoff is some decline in off-road abilities. For '99, the topper in this most luxurious class of luxury SUVs has to be the Cadillac Escalade. A twin to the GMC Yukon Denali, the Escalade is so loaded with full-glitz standard equipment that there are no options for buyers to choose from.